Hardscape Services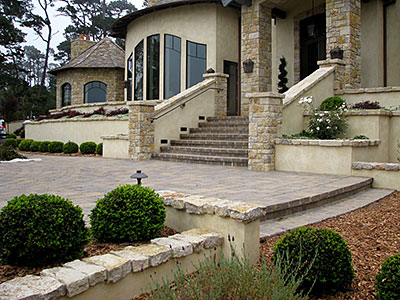 We at Santa Cruz Brick Paving are located in Aptos, CA and provide custom hardscaping services to a variety of clientele across the region. The high quality services that we provide and the reasonable pricing we maintain have made as one of the most sought-after hardscaping contractors in the region. Creating stunning outdoor spaces is something that we do with a great deal of creativity and attention to detail. The range of services we offer includes:


Retaining Walls
We provide customized retaining wall solutions and use high quality Belgard products in these jobs. Retaining wall blocks are extremely strong and study and can be used to construct walls of any size and shape. They are available in a range of styles and finishes, which means it becomes possible to complement the look of various other features in your landscape while constructing these walls. When designing and installing all of these features, we will ensure that the highest industry standards are followed in the work, so you are assured of resilient and very long-lasting structures in your landscape. Read More About Retaining Walls »


Outdoor Living
One of the best ways to use the outdoor areas of your property is to get customized outdoor living features designed and installed by experts like us. As a company that has been operating in this industry for a number of years, we provide top quality outdoor living construction services. Our designers have the skill and experience to create beautiful patios, decks, walkways, paths and driveways etc. The use of high quality paver products and the best workmanship help ensure that you get resilient outdoor spaces which will add value to your property and uplift the look of all the outdoor areas. Read More About Outdoor Living »


Driveway Pavers
A driveway is a very hardworking space. It has to endure foot and vehicular traffic as well as constant exposure to the UV rays of the sun and other elements. This makes it necessary to ensure that you use good quality materials and hire experienced driveway paver installers like us for the job. We provide unique paver and stunning designs and make sure that all of the installation work is carried out as per plan. Our customized approach and attention to detail go a long way in ensuring that you get driveway pavers that will be easy to maintain and last for a number of years. Read More About Driveway Pavers »


Patio Pavers
A patio is an excellent addition to your yard. This feature can prove to be the perfect leisure zone on your property. In fact, many homeowners also get outdoor kitchens installed on the patio. Regardless of how you are going to use the space, it is important to make sure that your patio is designed to be functional as well as durable. We recommend the use of paver stones for your patio. These products are available in a number of different colors, sizes, designs as well as textures and shapes. We have a team of excellent paver patio designers and installers that work in tandem to create stunning and durable installations on your property. Read More About Patio Pavers »


Deck Pavers
One of the best ways to make sure you have a deck that will be extremely durable and long lasting is to opt for the right kind of surface materials. While there are a number of different products on the market, it is best to use pavers for deck installations. Today there are many different paving products that you can choose from and we will provide you with all the information you need about these materials, helping you make a better informed decision about the type of interlocking concrete pavers you want for your new custom deck. We provide unique deck paver ideas at very cost-effective pricing. Read More About Deck Pavers »


Paths/Walkways
We are a hardscaping company that provides customized paver walkway and path installation services. Our skilled landscape designers will work with you in order to determine exactly what kind of pathways and walkways you want. They will make sure that your new paver installations are completely in line with the overall design theme in your landscape. These products are extremely hardy, easy to maintain and are very versatile. Since they are available in a large number of designs, sizes and shapes, it allows skilled and experienced designers like us to create stunning and unique walkways and pathways on our client's properties. Read More About Paths/Walkways »


Stone Pavers
If you are looking for a company that would be able to provide stone paving solutions, we are the experts that can cater to your needs. We have skilled stone paver installers on our team that have worked with a variety of products. They have the experience and skill to handle stone paver installation on a number of different features including patios, decks, as well as walkways and pathways etc. We use very high grade paver products in our work which helps ensure that the feature will last for decades and increase the beauty and value of your home. Read More About Stone Pavers »


Concrete Pavers
While there are many different paving products on the market, pavers are extremely popular, and with good reason. Interlocking concrete paving is extremely appealing, easy to install and very long lasting too. It's available in a variety of textures, sizes and shapes and lends a very appealing look to the landscape. Our designers go the extra mile to make sure that all of your ideas are incorporated into the concrete paving projects that we handle for you. We can install concrete paving on features such as driveways, pathways, walkways, entryways as well as decks and patios. Read More About Concrete Pavers »

If you are looking for tailored solutions at very competitive hardscape feature cost, you are at the right place. Our team of expert hardscaping designers is here to help you determine exactly which kind of solutions would work perfectly in your landscaping. For any more information, feel free to call us at 831-818-3268. You also have the option to send us your queries and project details through this Contact Us form. One of our experts will get in touch with you shortly to discuss your requirements.